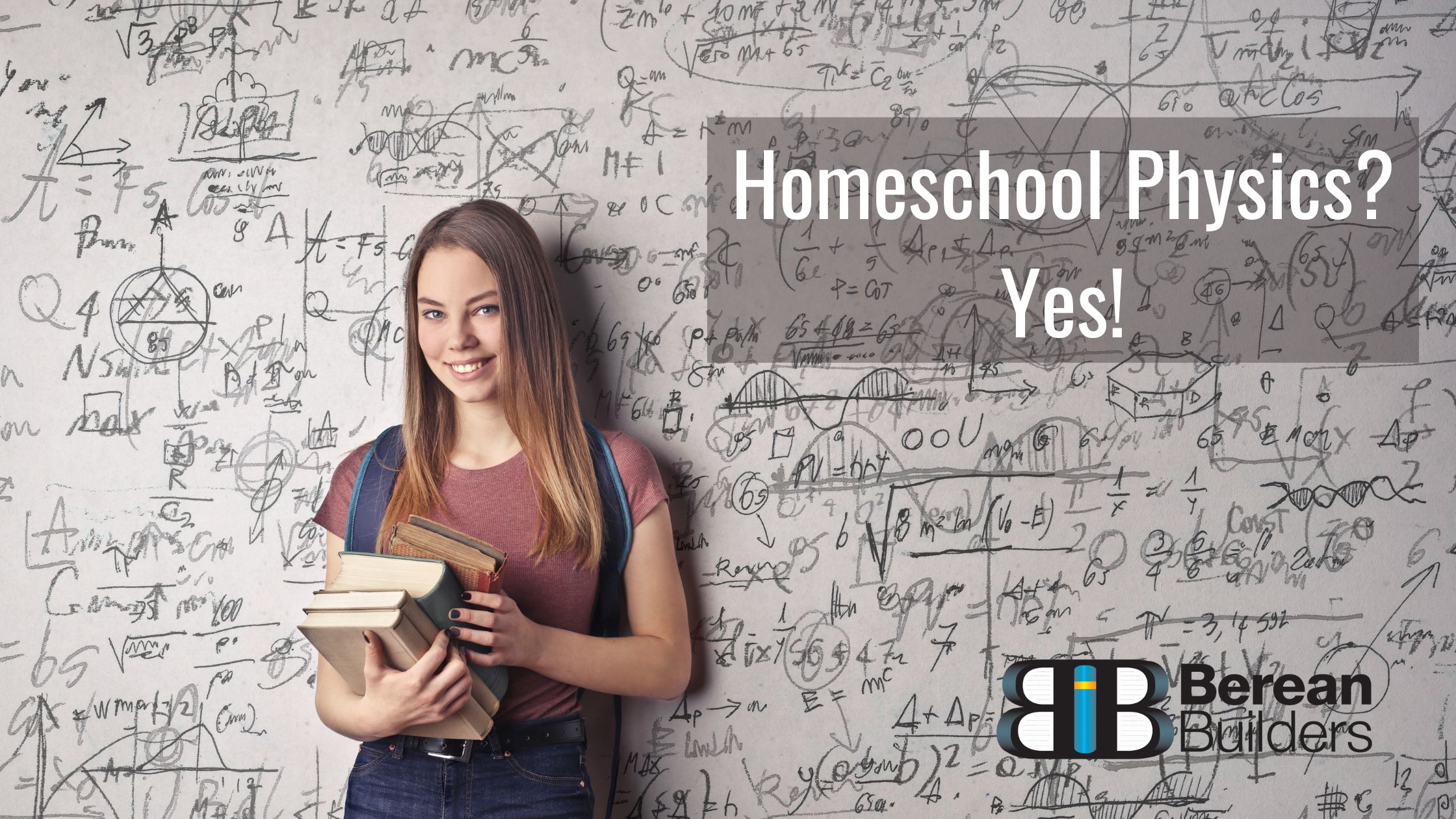 Biology, chemistry, and physics…the trilogy of high school science.
But is it really necessary to take all three? In short, yes. But why? What are the advantages of adding physics to your high schooler's homeschool science?
Science For The College Bound Homeschooler
If your student is college-bound, their transcript will be well-rounded and impressive with these three subjects. (If you've ever wondered why we suggest presenting those sciences in that order, find out in this post.)
And if you feel a bit intimidated about teaching high school science, especially physics, fear not, Berean Builders is here for you. We make it easy to cross high school science planning off your list.
Why Include Physics In Your Homeschool Science?
Are there any good reasons to just let physics slide? Your student can learn that stuff in college, right? Maybe so, but there are several advantages to adding physics to your high schooler's curriculum.
We're surrounded by technology.
Not only do physics concepts describe the world around us, but we also live in a technological world. The everyday processes and productions that use heat, light, sound, magnetism, and electricity require a general knowledge of physics to create and maintain.
Think of all the amazing tech that uses physics! Scanners at the store, jets, digital cameras, cell phones, plasma TVs, solar panels, wind turbines, rockets, telescopes, and cars, among a myriad of other modern conveniences, all require physics to operate.
Physics underlies all other sciences.
Biology and chemistry both use the mechanics of physics. While students may not understand why adding heat or light produces certain effects as they study these subjects, once they are introduced to physics, the proverbial lightbulb illuminates. Physics helps students comprehend the world around them, and Berean Builders physics creates critical thinkers ready to take on that world.
Admissions tests benefit from high school physics.
If your student's chosen college requires a standardized admissions test, the test will require math, verbal, and keen deduction skills. Physics uses algebra and geometry in addition to complex analogies which reinforce these skills for the test and answers the age-old question "when will I ever use this?"
Some university majors require physics.
The value of a good physics course lasts well beyond high school. Colleges recognize the importance of high school physics on a transcript, and certain majors depend on a solid working knowledge of the presented concepts.
STEM careers need a solid physics background.
If your student plans to pursue a STEM subject in college, physics is a prerequisite subject, and a good high school course sets the stage for college success.
Careers involving computer science, engineering, and even pre-med require physics courses, and college admissions may favor those students who have tackled and mastered high school physics. Your student can exceed expectations with high school physics listed on their transcript.
Studying physics boosts critical thinking skills.
In addition to introducing important science concepts, physics helps your student hone their critical thinking skills, something we at Berean Builders believe is vital to their success. The current job market is filled with careers dependent on a firm grasp of physics.
Physics enhances music and art studies, too.
Want a bonus reason to include physics in your high school science planning? An in-depth knowledge of physics helps students with music and art! Knowing the properties of sound and light can deepen your student's understanding and appreciation of these pursuits.
Introducing Discovering Design with Physics
Dr. Wile's new course, Discovering Design with Physics, is a re-engineered approach to teaching the subject to better present the material. The textbook is hardback so you can use it with multiple students and comes with the accompanying course website and our free question-and-answer service.
He shares more about writing the book and creating the course in this blog post and this blog post.
…that's what the subject of physics is all about. We try to "take the world apart" to see how it works.
There has never been a better time to incorporate physics into your homeschool science curriculum. With Dr. Wile's improved approach plus the addition of new material in the course, you can offer your student the science trilogy they'll enjoy, and colleges will appreciate.