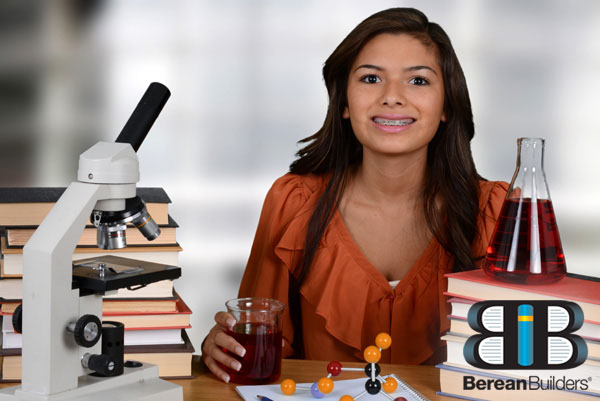 You've mastered elementary and middle school science with your students. Keep up the good work with your homeschool science adventure as you dive into high school. We'll help you!
Exploring science in the early grades is fun and exciting, but the prospect of introducing biology, chemistry, and physics to your high schoolers can be daunting.
Let's explore how to transition from middle school to high school science to maintain your momentum.
Getting Ready For High School Science
If you've been homeschooling a while, you're familiar with the laws in your state. You can find more information here. Review the requirements for high school graduation in your state to help you set educational goals.
If your student is college-bound, see what (if any) requirements your state has for high school graduation in a homeschool setting.  Just remember, even students who may not intend to go to college can use solid high school science knowledge in many different trades. Plus, if they change their minds, you're all one step ahead.
Make your high school plan based on your research. Here at Berean Builders, we suggest teaching high school science in a specific order since math knowledge and science course progression go hand in hand.
Using a Curriculum for High School Science
Maybe you've enjoyed a child-led exploration of early grades using an eclectic mix of learning opportunities. You can still do that in high school, but to assure a more thorough science education, consider adding a curriculum designed to cover what your student will need after graduation.
A prepared curriculum offers lessons in a logical order that allows students to build on previous knowledge when presented with more complex concepts.  If you do not feel equipped to provide a solid science curriculum for your student, coops and online classes can be utilized as a way to aid independent study at home.
With high school science, your student may complete much of their work on their own. Sit down with them to determine a schedule of study so they can stay on track and understand what is expected of them by certain dates. Set aside days to review their work and take regular assessments as the year progresses.
You don't have to know high school science to facilitate your student's education in the subjects. Be creative, be resourceful, and don't be afraid to ask for help.
Transitioning from Middle School to High School Science for Homeschoolers
Early years of homeschool consist of plenty of guided lessons. Once your student is ready for high school, you can begin to guide less and encourage more independent study. This not only takes some of the pressure off you to actually teach science but sets up your student for self-guided learning that will serve them well in college and life beyond.
Middle school science covers general ideas through life, earth, and physical science courses. This builds a framework for your high schooler to expand upon as they cover deeper concepts through biology, chemistry, and physics.
Your student may spend longer on a specific topic than they did in middle school. And while you may have presented engaging experiments to bring an idea to life then, in high school, your student will be much more methodical about lab work.
Notebooks are one possible way to study however, some students prefer notecards, some use highlighting and margin notes, and some prefer making outlines.  As your high schooler investigates a topic, have them write or draw their understanding of the idea. This can can be used later for study and will also give you insight into how well they are learning a subject.
High School Science Labs at Home
Typical graduation requirements for high school include science labs .  You can find many virtual labs for high school science that broaden your student's understanding of concepts in biology, chemistry, and physics. However, It is important to note that virtual labs are not accepted by universities.  Real labs are necessary to meet their requirement.
At Berean Builders, we understand how important hands-on learning is for science. Which is why we provide appropriate labs and experiments with clear instructions to immerse your student in the current topic of study.
Put lab time on your student's schedule and make it a priority to fulfill those lab credit requirements.
Join Homeschool Science Groups
Clubs and co-ops can make high school science even more exciting for your high schooler. Not only will your student be introduced to new friends, but they will get a feel for working with a group of like-minded individuals. This may help them at university, or even set them up for success in a scientific field after graduation.
Seek out science groups in your area or find an online group if that better suits your situation. Your student can discuss concepts, participate in experiments, play games, and compete in challenges all while increasing their circle of friends and acquaintances along with their scientific knowledge.
High School Science as Life
Homeschool parents know it is impossible to compartmentalize individual subjects, so you take that to heart as you find the science, history, and math in everyday learning.
Knowing this allows you to explore the science in other subjects.
It also allows you to use science as a springboard into historical events or even activities in your own life such as cooking or gardening. Science is woven into every aspect of our days and nights, and you can create plenty of opportunities for observation and wonder. That they learn science is indeed a bonus.
In addition, by applying lessons to life, your student will not have to ask, "When will I ever use this knowledge?" They will be able to see the significance immediately.
Let Your High Schooler Lead Within a Framework
Having a well-planned curriculum can make your high school science year easier, but what if your student becomes deeply interested in a particular topic? In elementary and middle school, you could go off on tangents and then swing back to the main plan.
What about high school? Can you still take a deep dive into one fascinating topic?
The beauty of homeschool is that your student is able to explore one idea for an extended time without getting too far off schedule. All that delight-directed learning satisfies high school requirements, more so if hands-on experiments are included. The curriculum will be waiting when they return.
They're Never Too Old for Field Trips
Your younger students probably spent many happy hours on field trips for science. Do they have to give up that fun for high school? No!
High school science offers even more opportunities to learn away from home. Older students are often welcome to take tours of places younger kids can't go. Take advantage of factory tours and career days so your students can meet experts and ask lots of questions. They may even get inspired about their future!
You can also arrange visits to science departments at nearby colleges and universities. What better way to get a taste of science on campus than to see it in person?
High School Science Does Not Have to Be Boring
Keep in mind that fresh feeling of discovery when your students were in earlier grades. Bring that joy along for the homeschool science adventure in the upper grades.
Forget the sleep-inducing textbooks of your high school science experience. Today you have many more resources at hand to make high school science fun.
Work with a textbook that is conversational, not dry.
Present in-home lab experiments that are engaging.
Incorporate videos and nonfiction books into your plan for the year.
Allow your student to follow their interests.
Join high school science groups.
Make plenty of field trip memories.
Experiment with online classes if your student enjoys lecture-style learning.
Seek support from educators and scientists to deepen your student's understanding.
Your student can enjoy high school science, and you can relax, and rest assured you've given them the very best homeschool science experience.
High School Science at Home
With all the resources available to you, high school science at home is not only possible, but also recommended! You homeschooled through the lower grades, and you know your student better than anyone.
You don't have to love or even be good at science to offer your student the very best high school science education that will take them right into college or the trade of their dreams. Plus, a solid science base can help your homeschool student be at the top of the list for STEM scholarships at their preferred college or university.
Remember, Berean Builders is here to help you with science, and we have even more resources for you.
How to Choose the Ideal Homeschool Curriculum
Find out why we teach the sciences in a specific order: biology, chemistry, physics
Science Courses Online? Here are the benefits!
Preparing Your Student for College Science
Looking For Specific High School Level Science Resources?
Berean Builders offers a variety of excellent courses for your high school level learner as well.  We have all of your high school science needs covered with our comprehensive approach.
Discovering Design with Biology
Discovering Design with Chemistry
Discovering Design with Physics