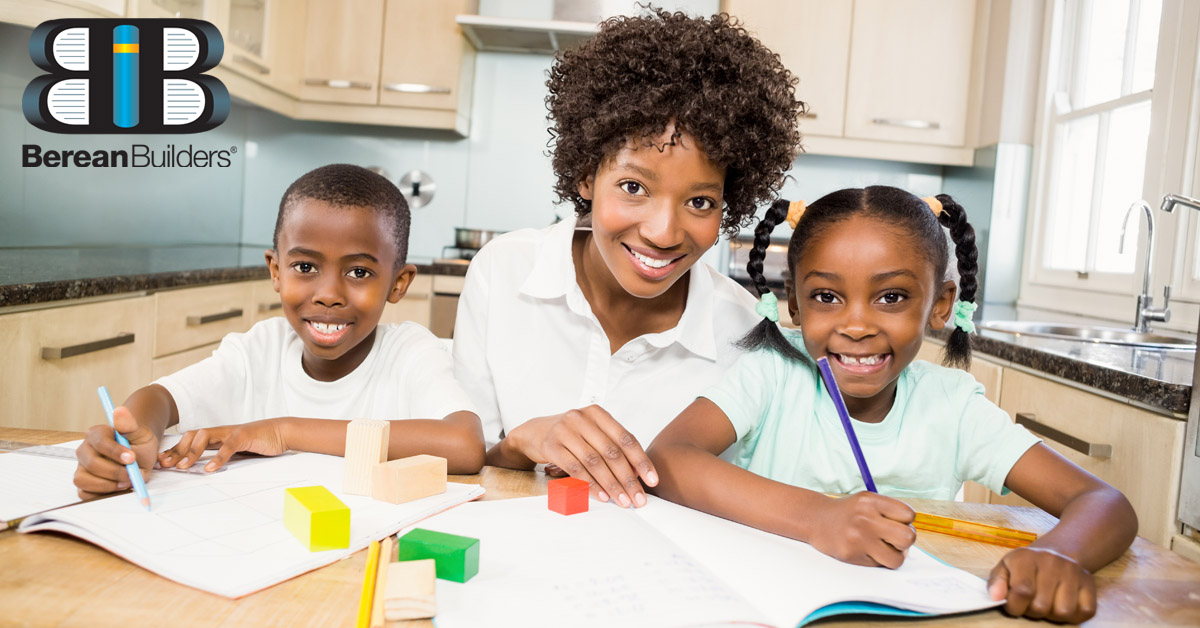 Taking a historical approach to science in your homeschool helps make the learning come alive! In this approach,  students learn science in the order it was discovered by the great scientists of history.
If you have multiple children in elementary level studies, good news! Dr. Wile's elementary science series contains multi-level books you can use for any grade K-6. And the unique feature of this wonderful course is it uses history as its guide. Science Through HiStory is elementary science simplified! Science concepts are presented in the order they were discovered while constantly reminding students of the Creator who fashioned the marvels they are studying.
Homeschool Science: Historical vs. Topical
Most elementary science programs are built around a topical approach to science where students work through a unit focused on one area of science (i.e., weather) before moving to a different topic.
But Berean Builders' five-volume Science Through HiStory series takes a completely different approach, exploring science through a chronological journey through science.
Students learn science in the order it was discovered by the great scientists of history. As a result, the topics change frequently.
For example, in the first 15 lessons of Science in the Ancient World, students learn about measuring tall things, fire, music, atoms, and medicine. The topics are unified by the people who studied them and the way science was developing at the time.
You may be asking, "Why chronological science?"
3 Reasons to Teach Science Using a Historical Approach
Students learn the enormous debt science owes to Christianity. 
Many unsuspecting students are taught that Christianity has opposed science throughout history. In fact, if it weren't for Christianity, we wouldn't have the science we have today. When a
student sees how science developed, this truth becomes obvious.
Students get a more realistic view of how science works.
Science is mostly about making mistakes and then learning from those mistakes. For example, in other curricula, students could be taught a brief synopsis of how the scientific view of the solar system changed over time. In our course, they learn in detail what scientists initially thought and see each major step that produced the modern view of the solar system.
Thanks to frequent review, students have better retention. 
In a historical approach, students continually revisit science topics but in the context of a new person and how he refined an old idea. This narrative method makes science more interesting than a topical approach so children remember the material longer.
For more information about our historical approach to science, see p. 4 of the catalog.
The Eras of Science Through HiStory
Science in the Beginning uses the Biblical days of creation to introduce a wide range of scientific topics including the nature of light, energy conservation, the properties of air and water, introductory botany, our solar system, basic zoology, and some aspects of human anatomy and physiology.
Science in the Ancient World covers the work of the natural philosophers who lived from about 600 BC to the early 1500s AD and presents science as it was developed. The ancient scientists, some who were devout Christians, got a lot right but also missed the mark on certain ideas. We explore these mistakes to advance our understanding of the natural world.
Science in the Scientific Revolution spends time with natural philosophers from 1543 to the end of the 1600s covering new science concepts as they were discovered. From human anatomy to electricity and the laws of motion, this book shows the scientific thinking of the philosophers who embraced the Christian faith.
Science in the Age of Reason sheds light on the discoveries of scientists from the 1600s to the early 1800s. The book covers a wide range of topics being discovered at the time and allows students a peek into the worldview of these pioneers and how that worldview shaped their scientific conclusions.
Science in the Industrial Age encompasses the multitude of scientific discoveries that took place during the 1800s and early 1900s. The variety of topics covered includes biology, chemistry, geology, medicine, cell biology, and radiation, and brings to light how the worldview of the scientists affected the conclusions they drew.
Flexible and Engaging Science for Elementary Students
Each of these books can be used as a stand-alone science text and presents plenty of hands-on activities to keep elementary students engaged and curious.
Plus, with three levels of review for the lessons, you can adjust the level of challenge for each individual child. Older students can work with their younger siblings to enrich their science learning experience.
Coordinate Your History and Science Lessons If You Choose
What's this special approach that no other science program takes? It's a chronological one.
With this linear approach, it seems a natural fit to synchronize your Berean science to whatever history program you're using. We have a guide here where you can find detailed notes for meshing these popular history programs with the Science Through HiStory series:
Biblioplan
Diana Waring
My Father's World
The Mystery of History
Simply Charlotte Mason
Story of the World
Tapestry of Grace
Veritas
But Should I Synchronize My Science and History Programs?
Yes, aligning your history and science programs may make sense on the surface, but please be forewarned: The process is a bit difficult and not all that beneficial.
First of all, history progressed at a steady pace, but science did not. Science started out slowly and then gained a lot of momentum as the Christian worldview developed. It gained even more momentum as technology developed.
For example, Science in the Ancient World covers about 2,100 years of history. The next book, Science in the Scientific Revolution, covers only 200 years. And the remaining two books, Science in the Age of Reason and Science in the Industrial Age, cover only 100 years each. Science in the Atomic Age (for junior high) also covers only about 100 years.
Your history program's pace may not match at all!
We think the best thing you can do is cover history and science separately without worrying about matching them up perfectly. When you encounter the same ideas, scientists, or events in a different course, you get a chance to review what was already covered!
Your homeschool is a reflection of you and your family's needs and goals.
We are delighted to offer this flexible, chronological approach to elementary science you can use in the way that works best for you!
And, as always, we are available to answer your questions about how to get the most out of our courses for your unique homeschool experience.