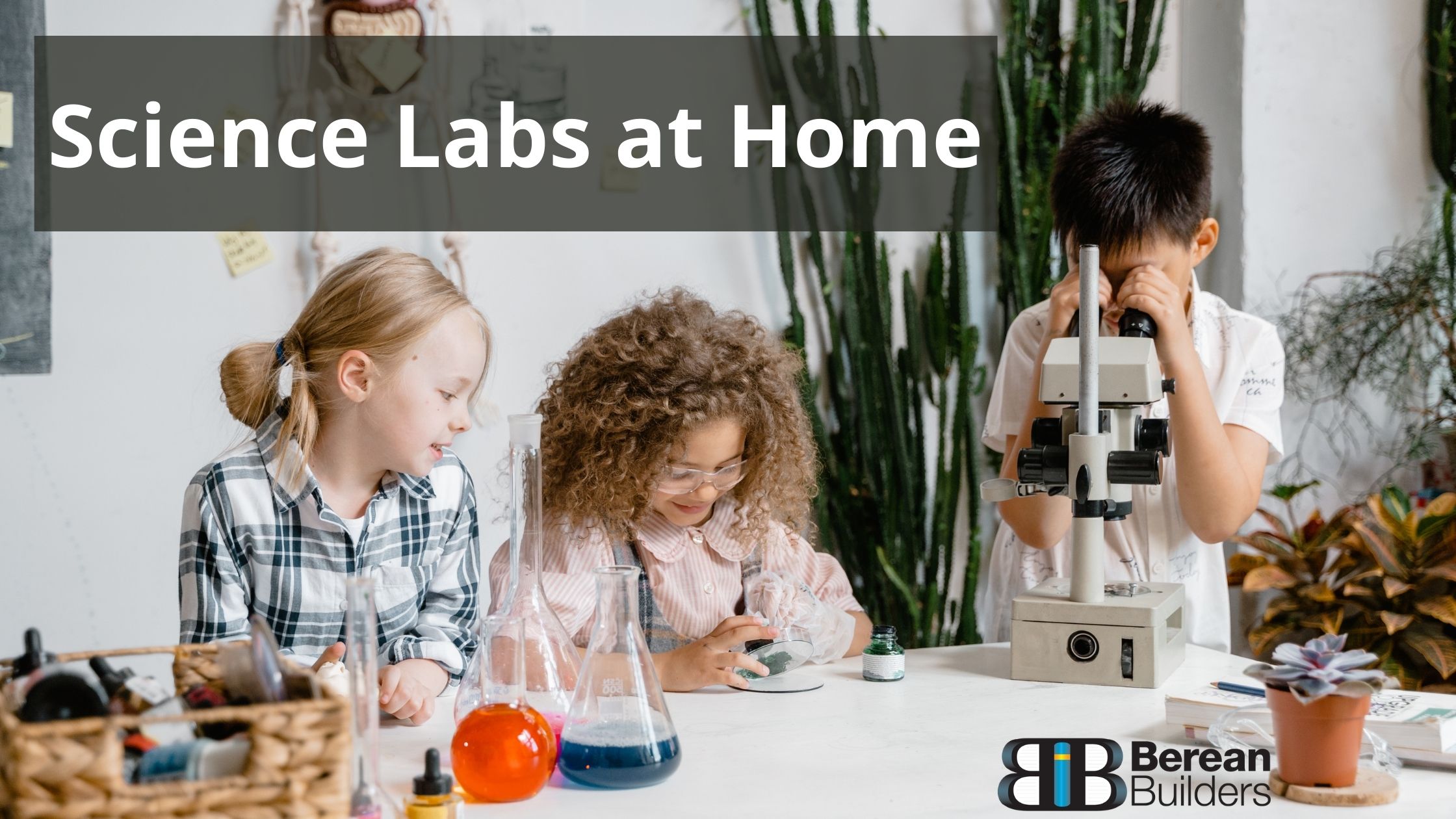 It's no secret Berean Builders courses prepare your student for university level science. You're ready for science at home! But what about homeschool science labs?
Does the word lab conjure up a large room full of strange equipment and unknown substances?
Does this image make you doubt your ability to give your kids lab experiences equal to public school?
Don't worry, we have you covered with labs, too.
The Value Of Science Labs In Your Homeschool
You may be surprised to learn that Berean Builders science labs are even more real than classroom labs.
Why?
In a rigid school setting, the teacher prepares the labs and offers his or her experience as the students encounter roadblocks as they proceed. This sounds great right?
Wrong.
If a student is relying on an experienced teacher to think for them, they aren't thinking for themselves. And that's what we're doing here at Berean Builders…helping students become critical thinkers.
A homeschool student conducting a lab on the kitchen counter doesn't have the luxury of raising their hand to ask trifling questions. They really have to think through the problem on their own.
Of course, we're here for any insurmountable difficulties!
But what we really want is for your student to think about the problem and come to their own conclusions before escalating their questions.
Even better, since they are not restricted by a set classroom time, they can keep playing with the experiment until it works.
This is actual science, not spoon-fed predictions and outcomes.
Your student can work on their own to find flaws in their processes.
Plus, they'll have the opportunity to do their own troubleshooting.
Frustrating for them?
Maybe.
But your homeschool science will have better labs for their efforts.
Your children can enjoy having figured it out on their own.
College Prep Science Labs In Your Homeschool
Another wonderful result of experiencing labs at home is that your student will be better prepared for college labs.
In Dr. Wile's opinion, the best of his university science students were homeschool grads! These students were better at thinking through issues in labs and didn't need handholding to accomplish the day's goals.
Fortunately for you, the associated equipment for today's labs is much more readily available, much better, and much more affordable.
You also have a new realm of experiments available. You are now able to recreate public school labs right at home.
With non-toxic chemicals and first-class equipment that you can access affordably, your homeschool labs will be equal to the "real" labs you may remember.
And your students will benefit from university level science labs along with the first-rate science courses from Berean Builders.
Homeschool Science Lab Resources From Berean Builders
Take a look at some of the extensive lab kits we have available to accompany our science courses:
Lab Kit for Discovering Design with Earth Science
Lab Kit for Discovering Design with Chemistry
Dissection Lab Kit for Discovering Design with Biology
Microscope Lab Kit for Discovering Design with Biology
You can feel confident offering a college-prep science education in your homeschool along with thorough labs to build your creative thinker.